ULBRICHTS Protection presents the boltless OPTIO helmet with protection
beyond NIJ IIIA at the Shot Show 2023
Kaufing, January 16th, 2023 — ULBRICHTS Protection will be joining an incredible list of more than 2,000 exhibits at the 2023 SHOT Show® at The Venetian Expo and Caesars Forum in Las Vegas to make this year's show a BIG DEAL.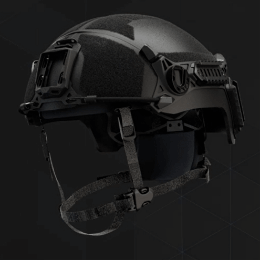 "Exhibiting at the SHOT Show is a big deal for our business, as we are bringing the OPTIO helmet with true boltless protection beyond NIJ IIIA to America. So many of our customers and contacts attend the show, and so many potential new customers will be there as well to get convinced by the outstanding performance. With all the opportunities, we plan on making many great connections that can benefit everyone involved," says Thomas Poandl, VP of Marketing & Communications.
THE BRAND NEW OPTIO – BOLTLESS & BETTER BALANCE with PROTECTION beyond NIJ IIIA
ULBRICHTS Protection will be featuring its BRAND NEW OPTIO HELMET.
This new ballistic helmet is BOLTLESS Handgun protection beyond NIJ IIIA with a better balance on your head in 3 different cuts.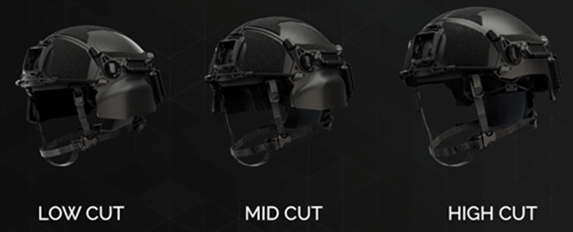 ULBRICHTS is already famous for its unrivaled helmets widely used by police forces and special units throughout the world. Now, the product range is based on the new lightweight OPTIO (three different cuts), a boltless upgrade of our First Responder model that comes with a strong motto:
With heavy body armor, you protect your heart but why don't you protect your brain with a helmet weighing only 2.63 lbs (1.2 kg)?
The common head protection of army unit soldiers and police officers using NIJ IIIA helmet size lacking in ballistic protection, as they only focus on the mandatory stopping of handgun projectiles, but not on the trauma / BFS / BFD prevention coming from the lethal backface deformation leading to death.
Our stake is: Survivability
By survivability, one must understand that for saving a soldier's life, it is essential not only to stop a bullet but also to protect the wearer from a deadly brain trauma caused by the backface deformation of the helmet.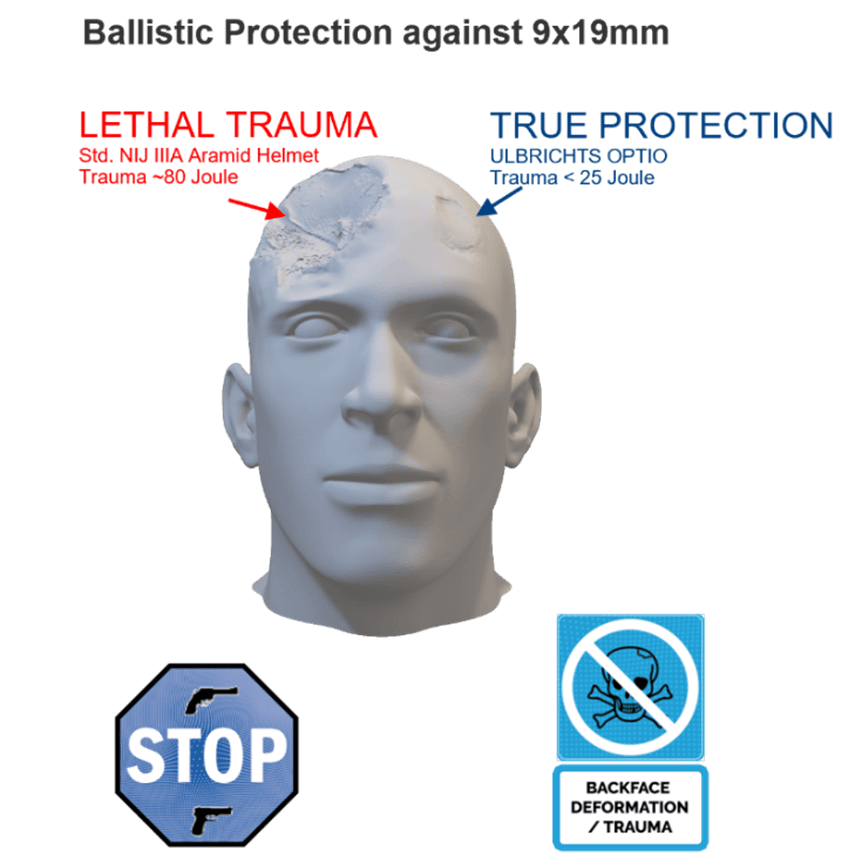 The dramatic lesson taught by several tests is that most or nearly all NIJ IIIA helmets commonly issued to the army and police units efficiently protect against shrapnel but not against any of the most widely spread ammunition fired in current armed conflicts:
When hit by 9×19 handgun ammunition they cause deadly trauma and when hit by rifle ammo like 7.62x36mm MSC fired by Kalashnikov variants or .223 fired by M4A1 variants, or the .308 fired by sniper rifles they are even fully penetrated.
The ULBRICHTS OPTIO offers true protection beyond NIJ IIIA starting at 2.63 lbs (1.2 kg), whilst standard military NIJ IIIA helmets have a deadly backface deformation when hit by a handgun and a hole when hit by rifle ammunition.
The new material, POLYTANIUM (a special combination of polyethylene and titanium) increases the currently unrivaled efficiency of ULBRICHTS helmets.

Protection beyond NIJ IIIA in the meaning of protection surface
NIJ IIIA defines a protection surface starting 1,9685 inches (50mm) from the rim of the helmet and from every bolt and screw in the helmet shell. To ULBRICHTS, this protection surface is not enough.
The boltless OPTIO starting at 2.63 lbs (1.2 kg) as a classical high-cut helmet, also called JUMP, breaches this ballistic performance by far. The protection surface starts compared to NIJ IIIA helmets at 0,7874+0,1969 inches (20+5 mm) stopping ballistic threats acc. NIJ IIIA and prevents severe backface deformation according to the German VPAM3 HVN2009 at 1,9685 inches (50mm) from the rim.
This ensures reproductive test results with survivable trauma values below 25 joules according to VPAM HVN2009 tested on standardized ballistic soap heads or <0,59 inches (<15 mm) BFD according to NIJ IIIA recommendations).
While other helmets have problems with trauma values or secondary fragments or shrapnel when bolts and screws are hit, the ULBRICHTS OPTIO skips this through its boltless design.
This brings another special mark to the OPTIO, as the protective surface can be increased by 20-30% thanks to the boltless design and no ballistic gaps.
The answer to rifle threats – ULBRICHTS FORTIS forehead shield – RIFLE UPGRADE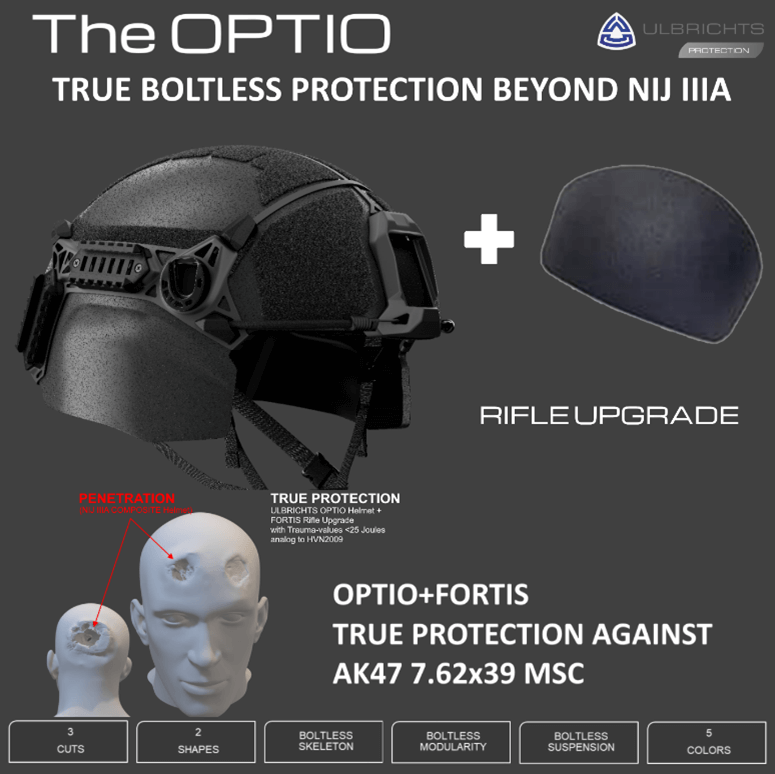 The FORTIS forehead shield from ULBRICHTS Protection features an add-on module that can be used to upgrade the OPTIO to rifle protection.
This represents the protection level of VPAM 6 (VPAM 6 = Kalashnikov 7.62 mm x 39 steel core, analog to the European HVN 2009 guideline, residual energy values below 25 joules). The additional module weighs just 1,08 lbs (490 grams) and can reliably reduce a Kalashnikov assault rifle's enormous firepower of over 2000 joules and a projectile speed of around 2362 feet/second (720 m/s) to well below 25 joules while it also stops NATO caliber 7,62x52mm (.308 / M80 / NIJ III).
Due to the enormous firepower of Kalashnikov and other rifles, police forces have lacked effective & true head protection.
In a nutshell:
The FORTIS can upgrade the OPTIO from TRUE handgun protection to TRUE rifle protection.
It stops and prevents fatal trauma to the helmet wearer when hit by rifle ammunition with defined residual energy values by experts of 25 joules.
The shield can be attached or removed in a matter of seconds.
It is securely fastened using Velcro.
This technology makes it possible to upgrade all ULBRICHTS helmets with additional protection, thus significantly improving the head protection of those, who protect us.
ULBRICHTS' new OPTIO helmets provide unrivaled ballistic protection and are at the same time extremely light and comfortable. The protection performance against back face deformation and trauma as well as against rifle thread is unreached.
For these reasons, the OPTIO is the perfect helmet for elite special forces in police and military as well as for police on patrol and common soldiers.
About ULBRICHTS Protection
ULBRICHTS Protection in Schwanenstadt (Austria)is a division of the ULBRICHTS Group. ULBRICHTS Protection manufactures titanium ballistic helmets and hybrids made of titanium aramid or titanium polyethylene. The company's international clientele includes various special and police units. ULBRICHTS Protection is one of the pioneers in the field of ballistic head protection and regularly sets new technical standards in terms of protection, comfort, and design. For more information, see http://www.ulbrichts.com/protection.
Contact:
Thomas Poandl (VP Marketing & Communications)
Tel.: +43 664 88103498
thomas.poandl@ulbrichts.com
ULBRICHTS GmbH
A-4690 Schwanenstadt, Kaufing 34