Combat Helmet with
Polytanium-Performance
DIFFERENCES IN

LIFE-SAVING PERFORMANCE
Police officers & soldiers deserve the best protection. This is especially true for the head. But what makes the best protection? What does a ballistic police helmet or combat helmet need to deliver today? Our answer is POLYTANIUM performance, comfort, and flexibility. Combat helmets from ULBRICHTS Protection, with better protection beyond NIJ IIIA, offer superior performance in every criteria. Military and Emergency services around the world already trust our products. Six unique and compelling true protection features characterize our POLYTANIUM helmets. They ensure that our customers can fully focus on one thing: THEIR MISSION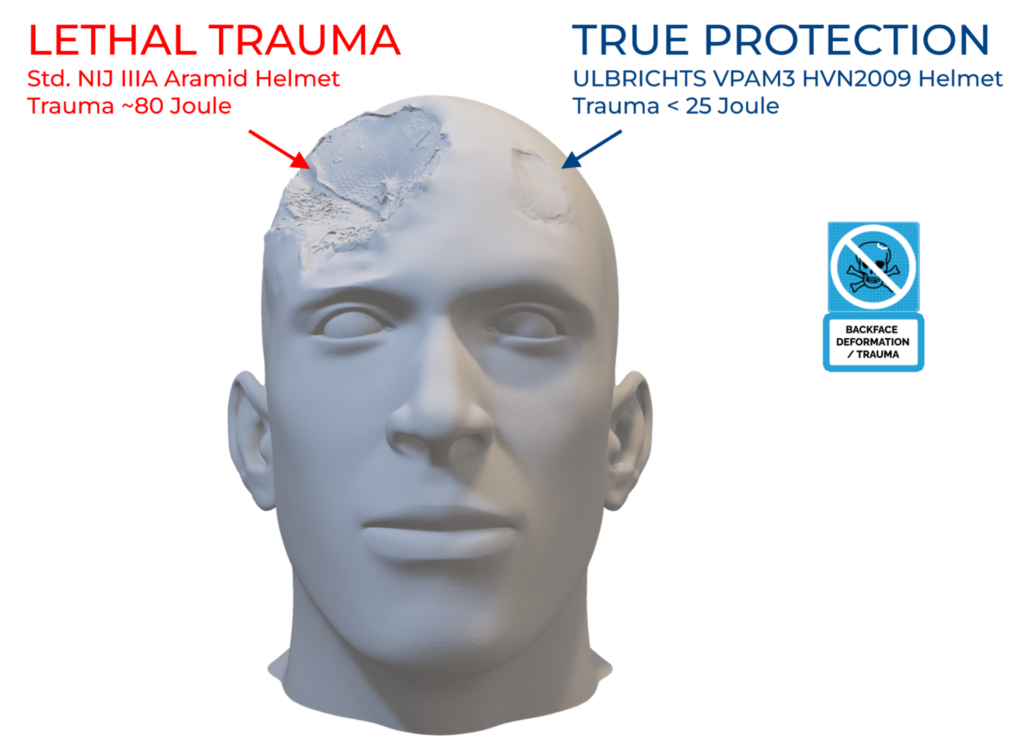 stop_1
(Click to switch between Handgun and Rifle threats)
ULBRICHTS Answer: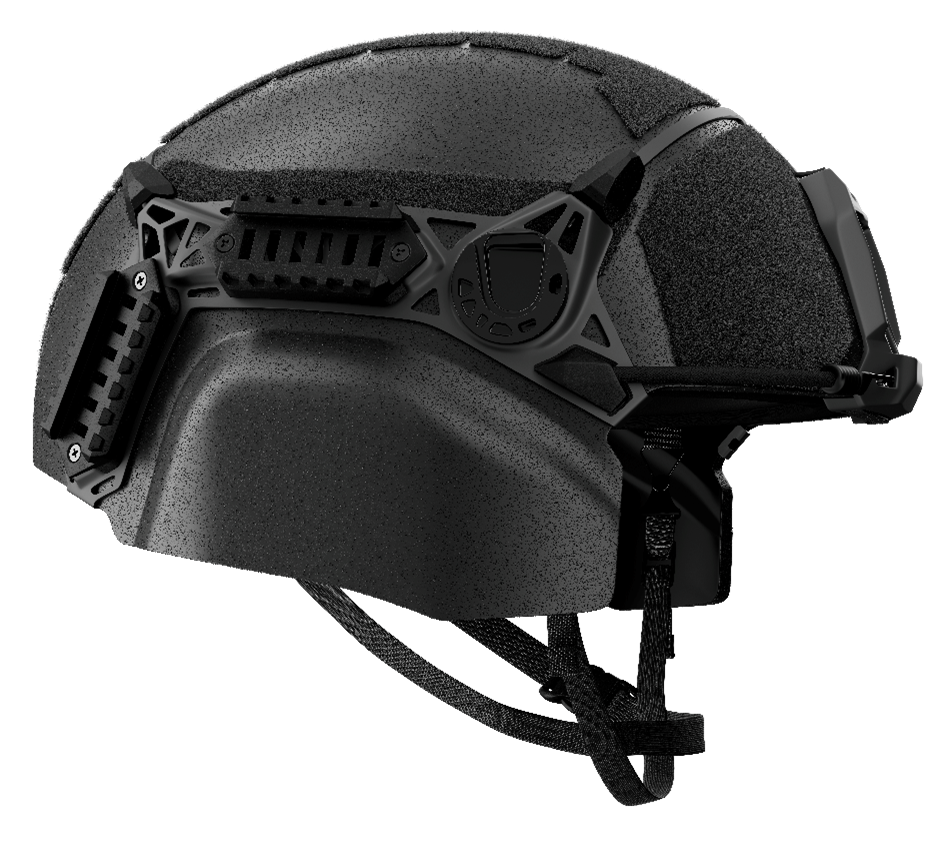 OPTIO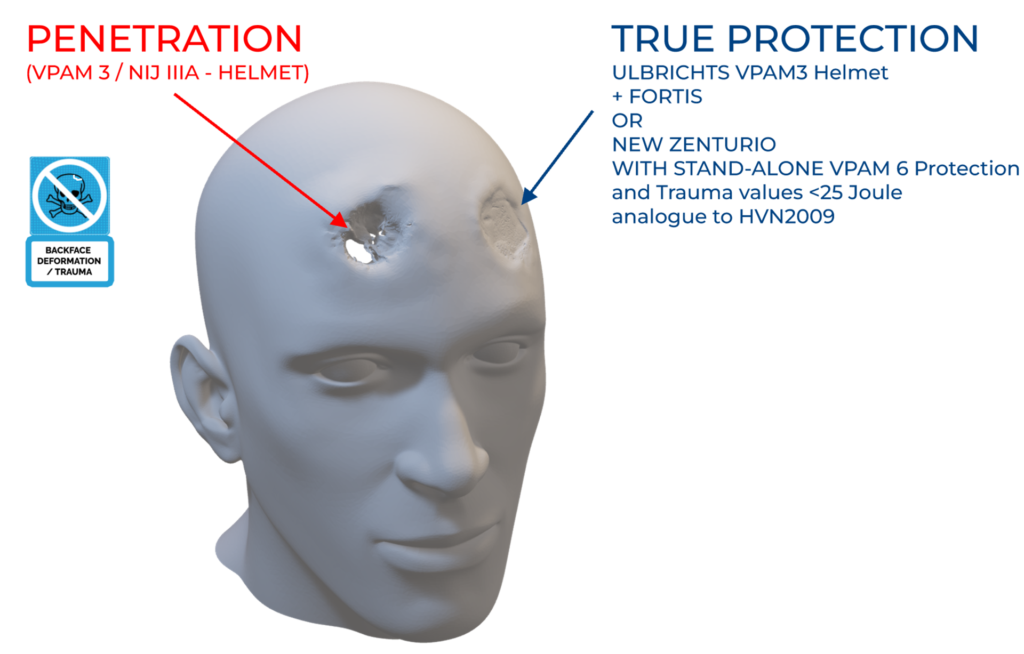 stop_2
(Click to switch between Handgun and Rifle threats)
ULBRICHTS Answer: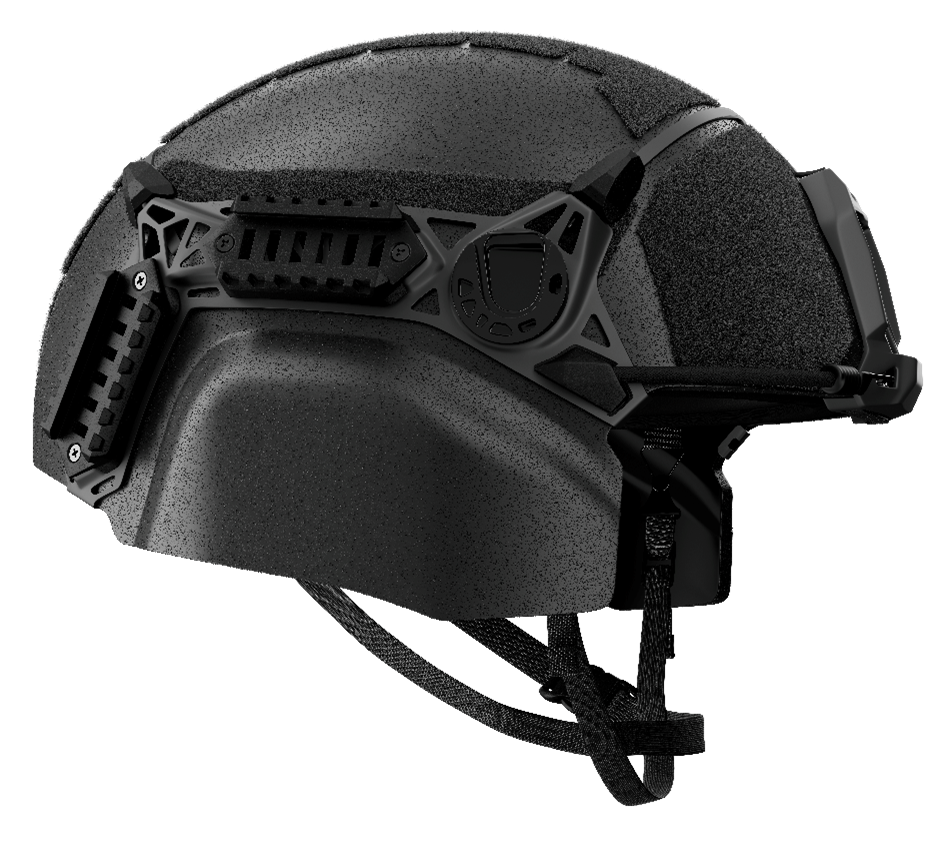 ZENTURIO
Uncompromising

in protection and design.
ULBRICHTS OPTIO – LOW CUT CURVED Teaser
ULBRICHTS OPTIO – HIGH CUT Teaser
ULBRICHTS OPTIO at a glance
ULBRICHTS OPTIO LIVE DEMO
ULBRICHTS PROBLEM OF BALLISTIC HELMETS
6 powerful arguments

for true protection.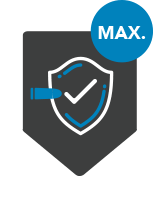 HIGHEST STOPPING EFFECT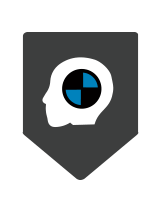 LOWEST TRAUMA VALUES & BACKFACE DEFORMATION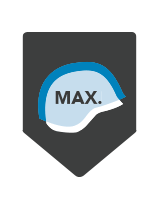 MAXIMUM PROTECTED AREA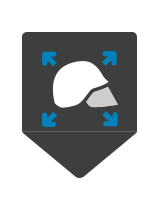 BEST INNER HELMET SYSTEM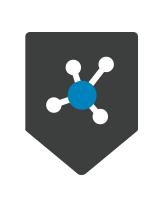 SMART MODULARITY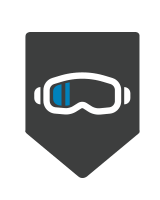 VARIOUS VISORS
All POLYTANIUM helmets (hybrid) from ULBRICHTS Protection meet the strict requirements of the European Association of Testing Laboratories for Attack-Resistant Materials and Constructions (VPAM). Depending on the model and version, our helmets reliably stop projectiles of different weapon types, calibers, and ammunition at test levels VPAM 2, 3 as well as relevant additional shots (VPAM 4).
The protection level of pure titanium helmets (VPAM 2/3) and POLYTANIUM (titanium hybrid) helmets (VPAM 3 + additional VPAM 4 hit) can be raised to a new level with our additional protection modules: VPAM 6, i.e., 7.62×39 steel core (MSC) at full V0 speed. With the VPAM-6 'FORTIS' forehead shield, and soon a VPAM-6 visor, we are the first manufacturer in the world to offer light and effective protection against Kalashnikov assault rifles.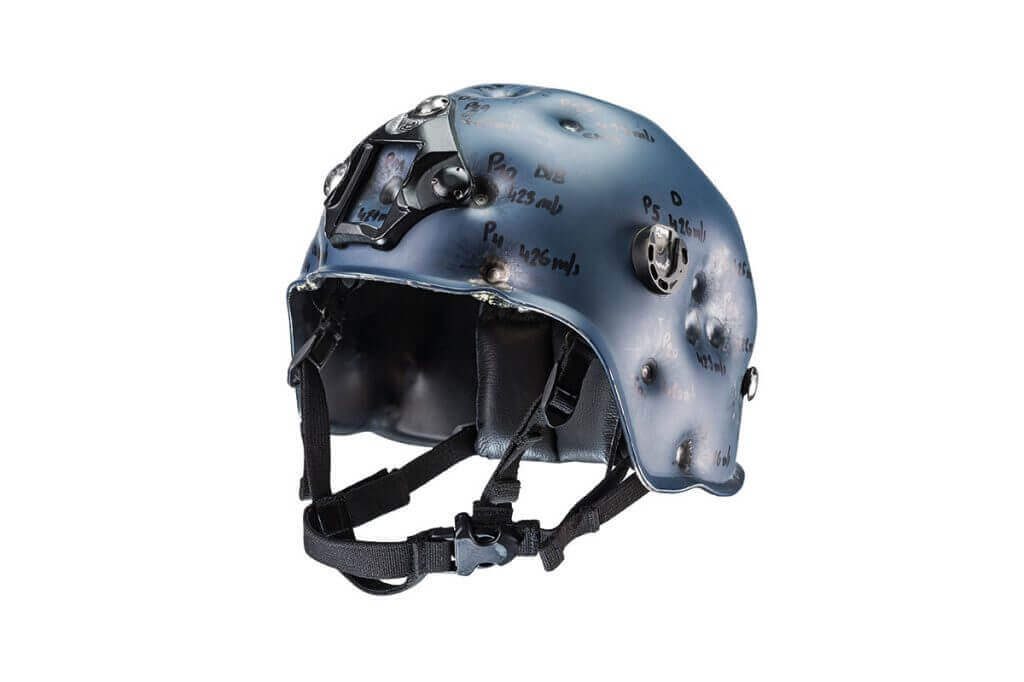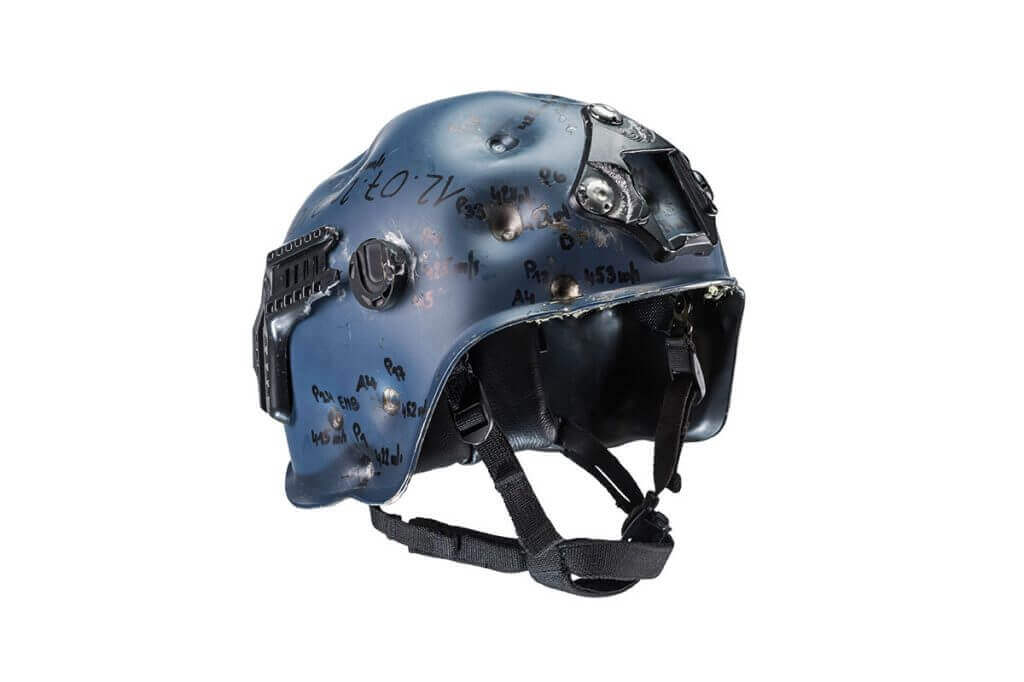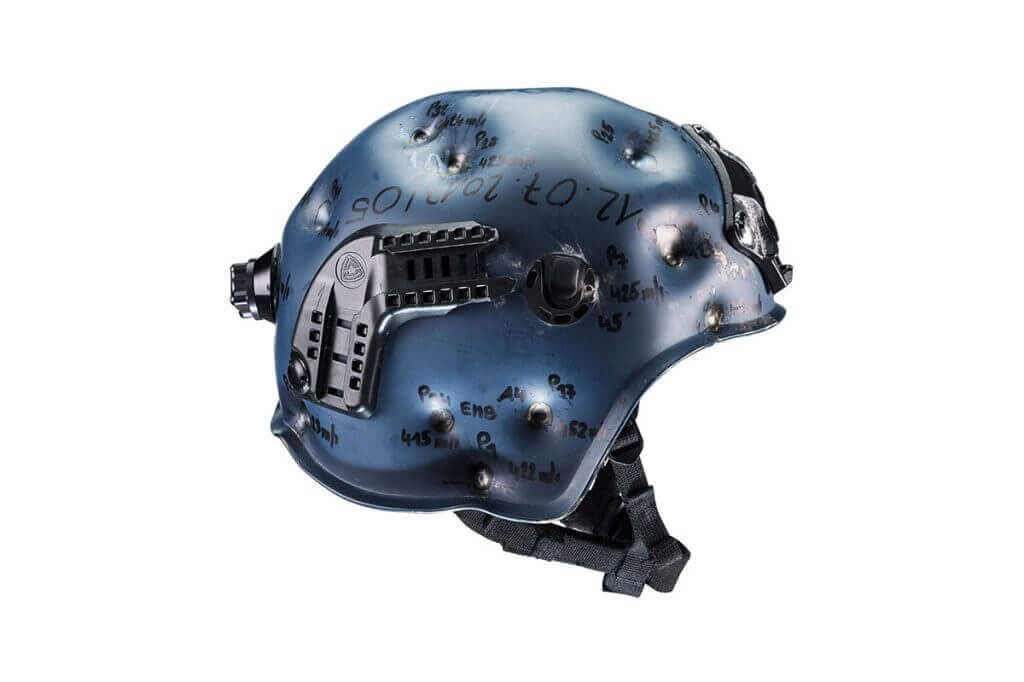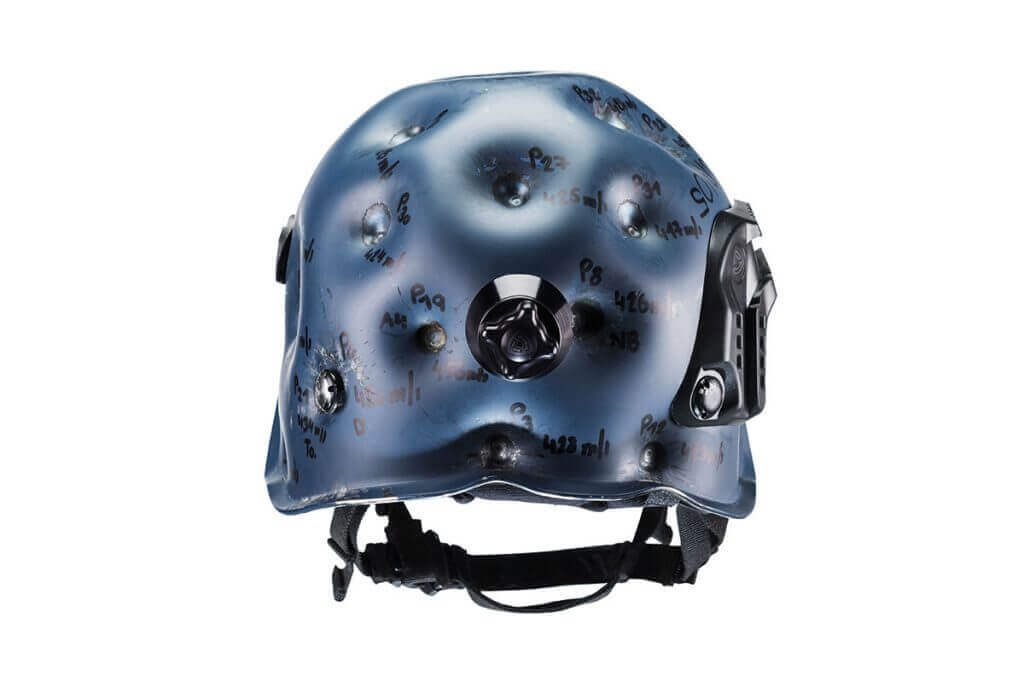 The protective effect of a ballistic helmet is determined by two essential factors. First, the projectile must be reliably stopped by the helmet shell; the projectile must not penetrate it. Second, the head must be protected from the kinetic energy of the bullet, released upon impact with the helmet shell. This second factor is just as critical to survival as the first. If the helmet shell deforms sharply inwards when stopping the projectile, fatal or irreversible head injuries result from the enormous impact on the skull — also known as the 'trauma effect'. Experts have therefore defined a residual energy value of 25 joules which can be transferred to the head as a maximum. It is therefore clear: Only if both factors are fulfilled is there effective / TRUE head protection against bullet impact.
Our tactical helmets/combat helmets have by far the lowest 'trauma values' or residual energy values (backface signature) in the world. We can achieve this as we are the only manufacturer capable of producing helmets from high-tech metal titanium. All ULBRICHTS POLYTANIUM helmets meet the strict requirements of the recognized Association of Testing Laboratories for Anti-Attack Materials and Constructions (VPAM), which defined the maximum residual energy value of 25 joules in its HVN 2009 guideline.
With a projectile energy of over 2000 joules and a velocity of around 720 meters per second, the Kalashnikov assault rifle represents an enormous technical challenge. Nevertheless, we have succeeded in bringing the world's first effective head protection against rifles into series production with the VPAM-6 'FORTIS' forehead shield. The new level of protection is achieved by combining a POLYTANIUM helmet (VPAM 3+) with the modular forehead shield. It is reliably capable of stopping a Kalashnikov steel-core projectile (7.62 mm x 39 MSC) while reducing projectile energy to survivable values below 25 joules: a true milestone in the development of ballistic helmets.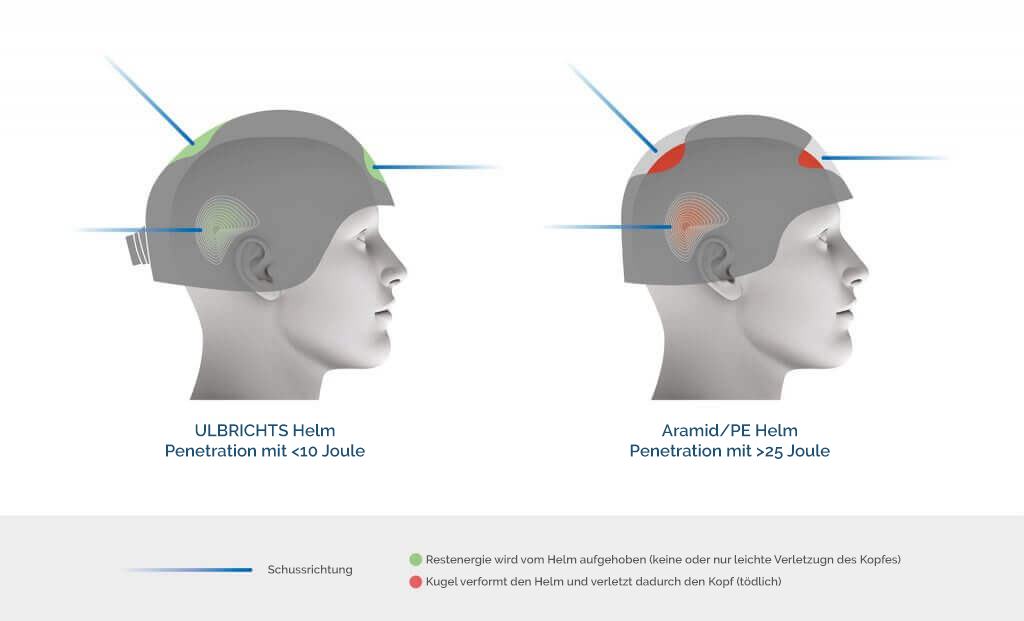 Polytanium helmet in the bullet test
Composite/Aramid/PE helmet
POLYTANIUM helmets from ULBRICHTS Protection provide protection over almost the entire surface. Depending on the version, they can even offer effective protection from an edge distance of 15 millimeters. This means that the bullet is not only stopped, but fatal trauma to the helmet wearer is prevented (residual energy < 25 joules). Helmets made of other materials can only do this, if at all, from around 50 millimeters edge distance. ULBRICHTS POLYTANIUM helmets
have a significantly larger effective protective surface, thanks to the titanium material.
Depending on the helmet model and cut, the protective area is around 40 percent larger compared to other materials.
Furthermore, the latest generation of ballistic helmets offers a boltless design. This means that there are no screws to create ballistic gaps in the dome, either for strapping or for attaching accessories. This creates a further advantage and an increase in the ballistic protective area of approx. 25-30%.
The specific protective surface weight (weight divided by protective surface) is significantly lower than for other helmets. In addition, the high-tech metal has another advantage: it allows for individual helmet cuts. Together with our customers, we find the right ratio of surface area, shape, and weight.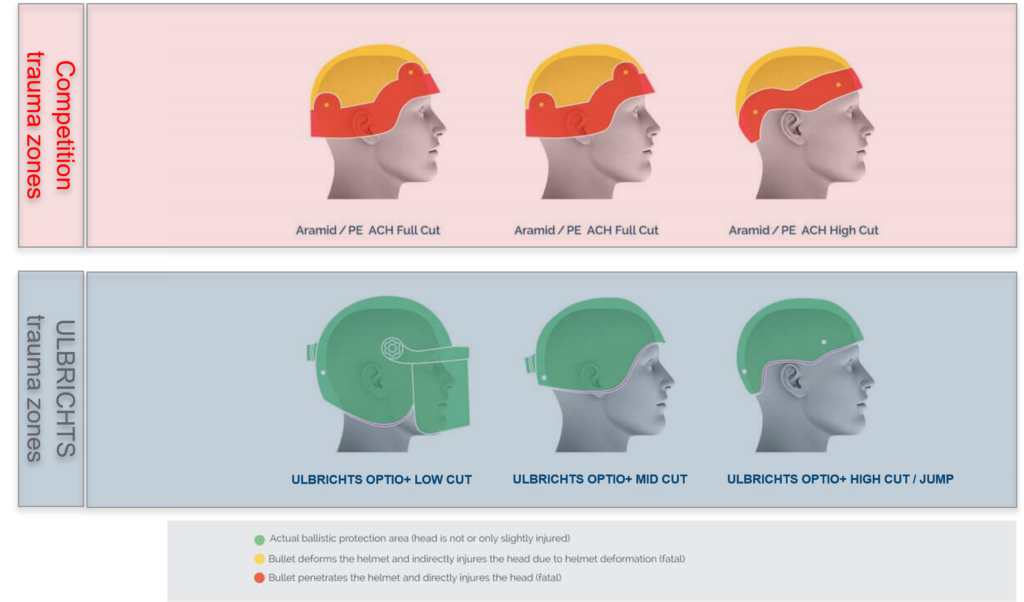 ULBRICHTS INNER HELMET SYSTEM
In an emergency, the combat helmet must fit, no matter who is wearing it. We make no compromises when it comes to the safety and comfort of our inner helmet, and this is now also boltlessly connected to the shell. By turning the knob under the helmet shell, the inner helmet/suspension can be perfectly adjusted to all head sizes ('UniSize') between 48 and 62 cm head circumference. This is done in seconds, even under stress and with gloves. No further adjustments with helmet pads are necessary, which cost important minutes in an emergency. We call this technology the 'Quick-Size-System'.
In addition, pad-based inner helmet systems from other manufacturers (with a knob for head size adjustment) require the head to be pushed forward. Particularly for medium and smaller heads, this leads to a strong front load, putting stress on the cervical spine.
The sophisticated 'Best Balance' system of our helmets ensures that the combat helmet always sits in the center — evenly balanced — so that the head is not rear- or front-facing. This noticeably increases wearing comfort and ensures effective protection.
Unisize system

Quick-Size-System

Best-Balance system
Unisize system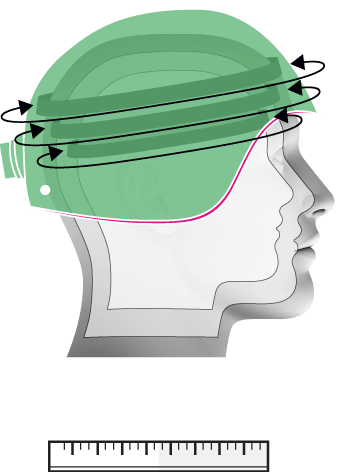 One helmet size fits all.
COMPETITOR INNER HELMET SYSTEM (EXAMPLE)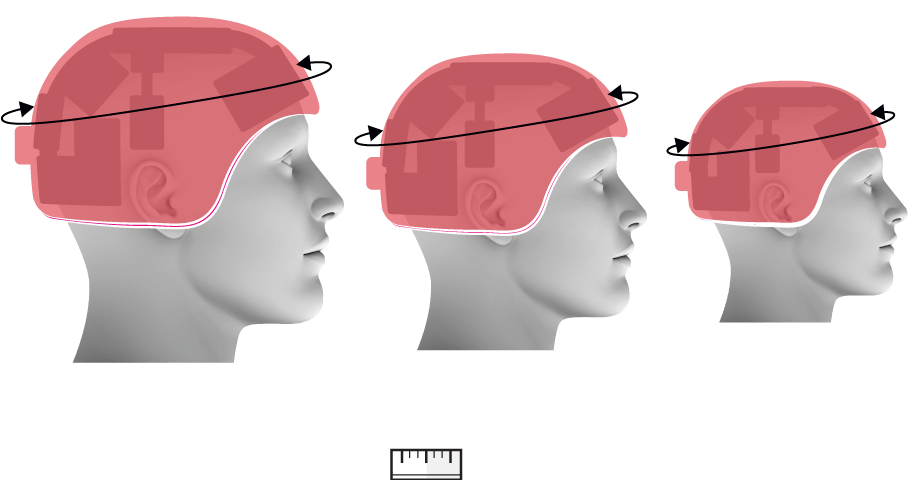 Multiple helmet sizes are necessary.
Quick-Size-System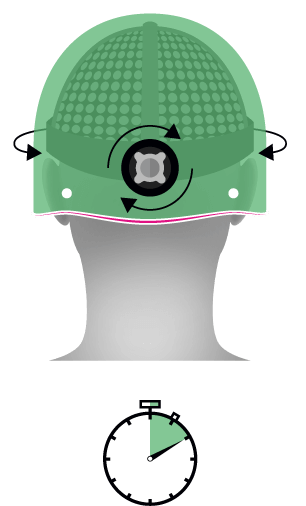 The rotary knob adjusts the size and head shape in seconds.
COMPETITOR INNER HELMET SYSTEM (EXAMPLE)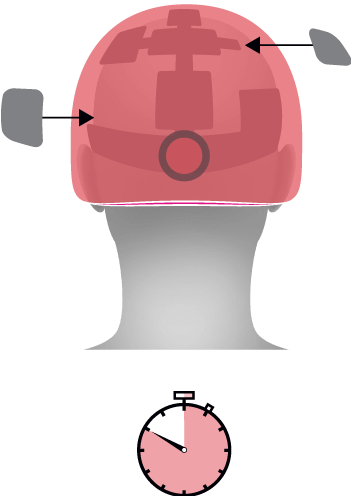 Size and head shape have to be changed by exchanging several pads in a time-consuming way.
Best-Balance system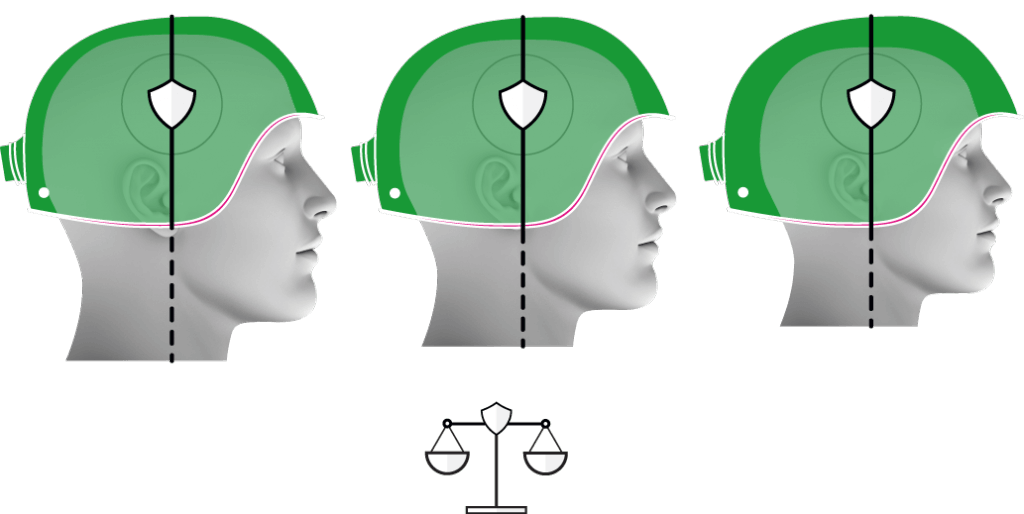 Comfortable and safe.
The head is always centered for all head sizes, and is always balanced
COMPETITOR INNER HELMET SYSTEM (EXAMPLE)
Unbalanced and insecure.
The head is pushed forward when adjusting size, making the helmet tail-heavy and wobbly, especially for medium and smaller heads.
Customers have different requirements. For this reason, all ULBRICHTS Protection helmets are consistently modular. Various adapters, rails, and brackets enable quick attachment of different accessories, e.g., for night vision, lights, or communication.
The boltless design also allows retrofitting, impossible with previous bolted systems. All accessory carriers can be replaced within a very short time on the boltless system in just a few simple steps. We are particularly proud that all our tactical helmets/combat helmets can be upgraded and converted modularly:
VPAM 6 protection level: All our helmets can be retrofitted with the VPAM-6 'FORTIS' forehead shield, significantly increasing the protection level. This means that light and effective protection against Kalashnikov fire is in principle available to all units.
Neck protection: All our helmets can be equipped with a neck protection adapter; both a ballistic and impact protection neck guard can be attached.
Visors: All our helmets can be equipped with a quick-release system. This allows different visors to be attached or removed within a few seconds.
With this design, ULBRICHTS Protection can offer a modular helmet system that can be adapted to changing requirements depending on the unit and deployment. This adaptability is becoming increasingly important in times of constantly changing tactics and deployment scenarios. It also contributes to investment security.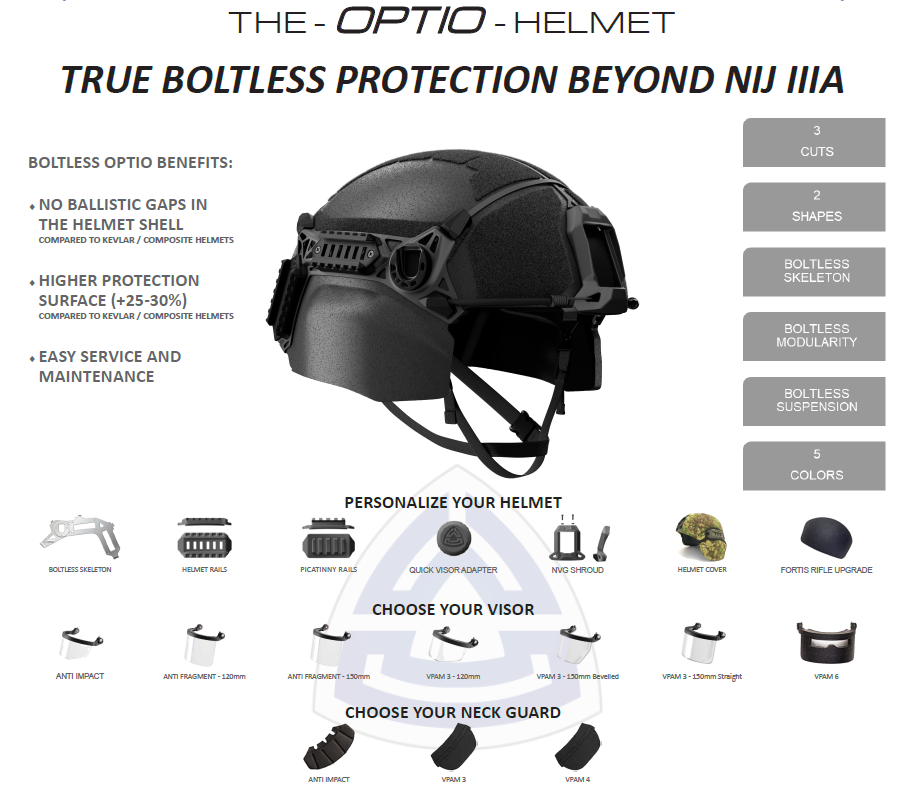 Visors complete the ballistic head protection. ULBRICHTS Protection develops and produces visor types for every application. Our range includes:
Impact protection visors (according to German TR 02/2011 "Einsatzhelm")
Fragment & shrapnel protection visors (according to STANAG 2920)
VPAM 2 ballistic visor (according to German TR 05/2010 "ballistic helmet")
VPAM 3 ballistic visor (according to German TR 05/2010 "ballistic helmet")
VPAM 4 ballistic visor (according to German TR 05/2010 "ballistic helmet", available soon)
The visors are available in different sizes and weights. Optional replaceable anti-scratch films (for the outside) and anti-fog films (for the inside) are available for all visor types.
The visors are attached to the outside of the helmet shell using a bulletproof visor mount. With the adapter, the visor can be attached and removed within seconds. This quick-mount system has been used by special forces and patrol units for many years and is available for all ULBRICHTS Protection helmets, as required.