Ballistic Helmets
for patrol officers
THREATS TO OUR SOCIETY

REQUIRES A NEW LEVEL OF SECURITY
Shocking recent incidents show that threats from terrorism are no longer limited to crisis areas. Europe's internal security situation has changed enormously. A few years ago, violent attacks with numerous casualties and deaths were unthinkable. Now, hardly a month goes by without reports of violent incidents involving firearms in public places. It is now indisputable that we must offer our police officers and emergency services the best possible protection. Ballistic protective helmets from ULBRICHTS Protection make an important contribution.
TERRORISM
IN CHANGE
One threat comes from gunmen who shoot and kill a large number of civilians and police officers within a very short time.
Equally worrying is the enormously increasing danger of terrorists acting autonomously or in coordination with terrorist organizations and deliberately shooting civilians and police officers, as seen in Paris and Copenhagen.
The threat has increased dramatically, both for the civilian population and for those who protect them: Police officers.
Due to the unpredictability of attacks, it is not only special forces that are in risky operations. Frequently, patrol officers — as 'first responders' — are the first at the scene and protect innocent civilians at the risk of their own lives. These first responders are completely unprotected from the firearm threat in the head area due to the lack of a suitable operational helmet.
WORLD FIRST!

NEW BALLISTIC PROTECTIVE HELMETS FOR PATROL OFFICERS
The potential dangers in increasingly complex threat situations require constant further development and user-friendly protection solutions — as is currently the case for patrol officers:
Due to the unpredictability of terrorist attacks, it is now not only special forces that face risky situations. Today, patrolmen and police officers are often the first responders, putting their own lives at risk to protect innocent civilians. These forces need both ballistic vests and good ballistic protection for the head; the most exposed and important part of the body.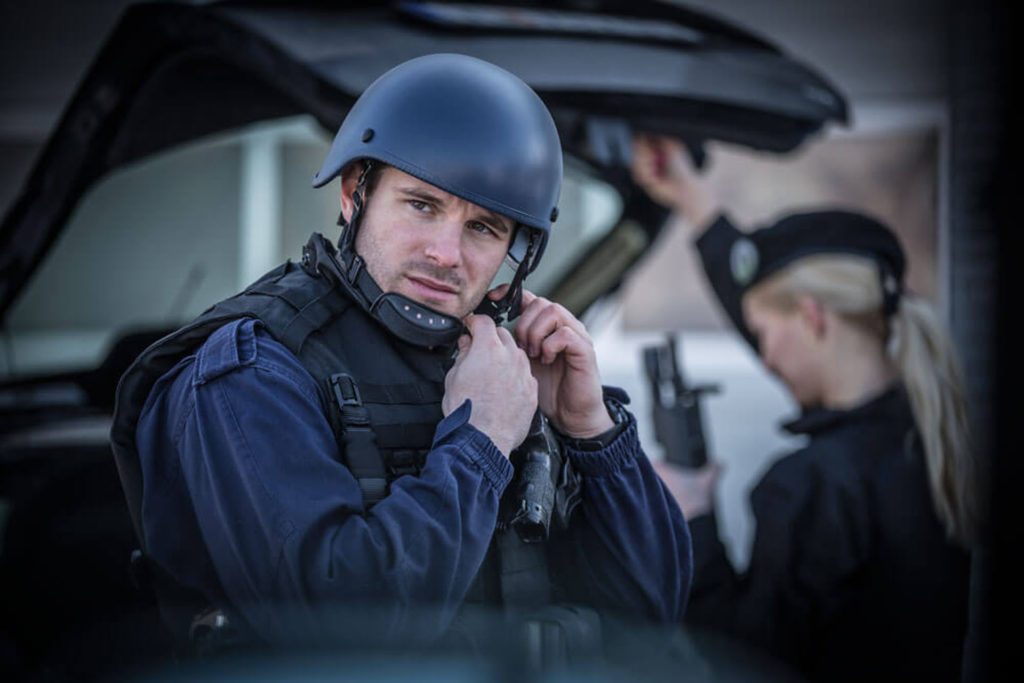 ULBRICHTS Protection has worked closely with police units to develop ballistic helmets, especially for patrol officers in active shooter situations and terrorist attacks. These helmets provide the same ballistic protection that until recently was only available to elite units, but with significantly less weight.
These ballistic helmets, specially developed for patrol officers, have now been in use for years and have received the best acceptance in practice among users.
High praise and motivation to further develop protective devices for the people who protect other people.